Treatment Prices
General Reflexology for health and wellness
A bespoke treatment tailored to your needs, to encourage relaxation and wellbeing, for common ailments and to leave you feeling rejuvinated.
First appointment including detailed consultation - £50, follow up appointments;
- 60 minutes - £45
- 75 minutes - £55
- 90 minutes - £65

Maternity Reflexology
Suitable for all three trimesters of pregnancy, to help support with common pregnancy ailments and prepare for labour and the postnatal period. A wonderfully relaxing and therapeutic treatment
First appointment including detailed consultation - £50, follow up appointments;
- 60 minutes - £45
- 75 minutes - £55
- 90 minutes - £65

Facial Reflexology (Bergham Method)
Stimulates facial muscles quickly bringing about a deep state of relaxation. Great for well-being, calmness and glowing skin.
First appointment including detailed consultation - £50, follow up appointment
- 55 minutes - £45

Reflexology Lymph Drainage (RLD)
A relaxing treatment to stimulate the lymphatic system and to support people suffering swelling or lymphoedema and may be helpful in managing the symptoms of auto immune conditions including arthritis and fibromyablgia
First appointment including detailed consultation - £50, follow up appointments;
- 60 minutes - £45
- 75 minutes - £55
- 90 minutes - £65

This is lovely as a longer treatment to be used in combination with traditional holistic reflexology.

The Ultimate - Foot and Facial reflexology
A combined treatment of facial reflexology using Super Facialist Rose Miracle Facial Oil followed by foot reflexology. Super relaxing and indulgent, perfect for a treat. For first appointment including detailed consultation please add on £5

- 60 minutes - £50
- 75 minutes - £62
- 90 minutes - £75


Children's Reflexology
Foot or facial treatment for babies, children and teenagers (16 years and under) Treatments are shorter and are tailored to suit each child. I am DBS checked and am very experienced working with children
Please allow an additional £5 for first appointments to allow for a consultation
- 30 minutes / £25
- 45 minutes / £35

Male clients are seen by referral only
Paying For Your Treatment
I accept Debit/Credit Card, Bank transfer and Cash.
* Prepaid treatments are non refundable. They are valid for 6 months
Health Insurance
If you have private health insurance you may be able to claim for a reflexology treatment. Most medical insurance companies that cover reflexology will accept an invoice from an AoR (Association of Reflexology) Registered Practitioner.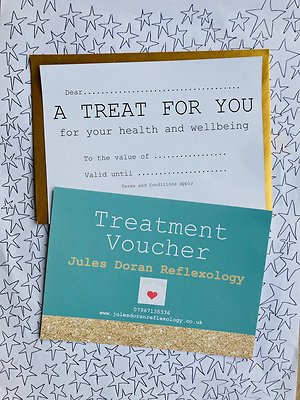 Gift vouchers
My gift vouchers are available to buy in a lovely gold envelope which can be collected or delivered direct to you or the lucky recipient.
They can be for specific treatments - facial or foot or for the Ultimate Treatment and for 60, 75 or 90 minutes. Alternatively they can be made out to a value of your choice from £40. The expiry date is extended from 6 months to a year.

Terms & Conditions
Vouchers: are valid for 1 year from the date of issue, cannot be replaced if lost, stolen or damaged, are non transferable unless with the written consent of Jules Doran and unless required by applicable law vouchers cannot be refunded or exchanged for cash however they can be refunded within 14 days of purchase minus admin cost of £2. They cannot be used in conjunction with special offers